COAXIAL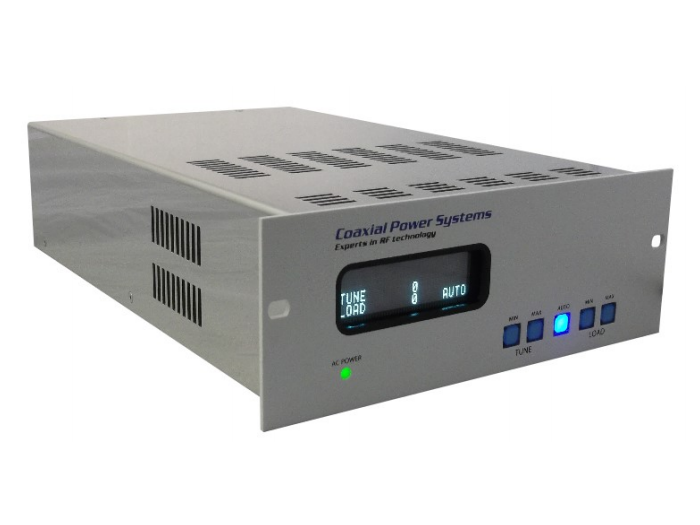 AMNC
AMNC (Automatic Matching Network Controller)는 반사 전력을 최소화하기 위해 매칭 네트워크를 조정하는 프로세스를 자동화합니다.
누름 버튼을 통해 자동 매칭 네트워크의 수동 매칭에도 사용할 수 있습니다.
전 세계 입력 범위의 DC 전원 공급 장치로 구동되는 견고한 아날로그 설계를 활용합니다. 최신 스위치 모드와 솔리드 스테이트 설계 기술을 사용하는 견고한 구조는 열악한 환경에서도 길고 문제없는 수명을 보장합니다.
컨트롤러는 간단한 장착 키트를 사용하여 CPS 하프 랙 RFG와 함께 설치할 수 있습니다.
단일 25-way 케이블을 통해 지정된 자동 매칭 네트워크에 연결됩니다. 일반적으로 5m이지만 더 먼 거리도 가능합니다.
Models
The controller is available in two formats – 2U half-rack and 2U full-rack.
1. AMNC-HR (AMNC 2U Half-rack)


The controller is Half-Rack, 2U high and can be fitted alongside any one of the Coaxial Power Systems range of low power RF generators up to 600 watts.

2. AMNC-FR (AMNC 2U Full-rack)


The controller is Full-rack, 2U high and is sometimes preferable to customers who also require a Full-rack RF Generator to create consistency with the rack layout and removes the need for blanking panels.

Basic information


Robust analogue design.
Totally Convection-Cooled.
Compact Rack-mount design as standard.
2U Half-Rack (Standard).
2U Full-Rack (Optional).
110-240V AC (50/60Hz).
24V D.C or other voltage D.C (Optional)

Functions


Displays the current position of the capacitors on the VFD display.
Parks the capacitors in a predetermined 'base' position when RF is inactive.
Allows the base position to be adjusted / preset.
Allows the base positions to be set by external equipment (Useful for automated processes).
Allows the current positions to be read by external equipment.
Buffer for bias voltage.
Configurable polarity on Phase and Magnitude detector inputs.
Configurable tuning span, defaults to 180 degrees for air and gas type capacitors

Please refer to the datasheet.